Dame Vivienne Westwood ha reso lo spirito punk e l'anglomania chic. Il suo atteggiamento militante e anti-establishment, sovversivo ispirato al radical-chic, è oggi incentrato sul disarmo, sui cambiamenti climatici e sui diritti civili. È quello che mi piace definire il punk raffinato, il lusso à la française stratificato dall'eccentricità britannica. Quale migliore accessorio di moda per parlare di questo in un simbolo concentrato rispetto ai cappelli. Nel corso degli anni hanno adornato le sue collezioni come epitomi di un'elegante ideologia e fanno ancora parte della firma di Andreas Kronthaler.
La boutique parigina di rue Saint Honoré presenta questa mostra itinerante dal pop-up fino al 22 giugno. Scopriamo 27 anni di artigianato e ingegnosità a partire dal 
Feather Beret
 collezione invernale "Anglomania" dell'oro 93/94; era l'anno in cui Vivienne Westwood sposò Andreas Kronthaler. L'inizio degli anni '90 è anche quando Vivienne Westwood è stata acclamata a livello internazionale, Designer britannico dell'anno nel 1990 e nel 1991, Ufficiale dell'Ordine dell'Impero Britannico (OBE) nel 1992. Il suo impatto nel mondo della moda e in quello sociale -la presenza politica è di primaria importanza.
Successivamente sarà onorata Dame Comandante dell'Ordine più Eccellente dell'Impero Britannico (DBE) e come nuovo Designer britannico dell'anno nel 2006 e nel 2008 diventa Dottore onorario in lettere, dell'Università Heriot-Watt, Edinburg per il suo lavoro in moda con il tessile tradizionale scozzese.
Celebrando la collaborazione con Prudence Millinery iniziata nel 1990, "Iconic Hats" ripercorre il dialogo tra il simbolismo della moda di Vivienne Westwood e l'intricato know-how del maestro londinese. Tutti i cappelli sono realizzati con le tecniche più tradizionali acquisite durante un decennio accanto ai più grandi maestri. Nel 1996 viene onorato il "Best Accessories Award" per la collezione uomo per Vivienne Westwood, dal Council of Fashion Designers of America. Puoi scoprire in questa mostra cappelli innovativi e innovativi dai loro archivi.
The 
Silver Pope Hat
 della collezione "Sexercise", il primo firmato Andreas Kronthaler per Vivienne Westwood, presentato a marzo 2016 a Parigi. Il romanticismo decadente del 
Giant Purple Flower
 o 
Dog Mask
 scultorea arte-povera della collezione primavera-estate 2019 "Untitled".
Copricapo evidente come l'iconica 
Naomi Turban
, in cui il tartan è di forma esotica, indossato da Naomi Campbell "On Liberty" Autunno-Inverno 1993/94; the 
Helmet Feather
 dalla memorabile collezione militante "World Wide Women" Autunno-Inverno 2011/12, o ancora, 
Chopped Feathers
 dalla collezione "Save the Rainforest" Autunno-Inverno 2014/15 e il 
Bucket Hat
 da "End Ecocide" Spring - Estate 2015.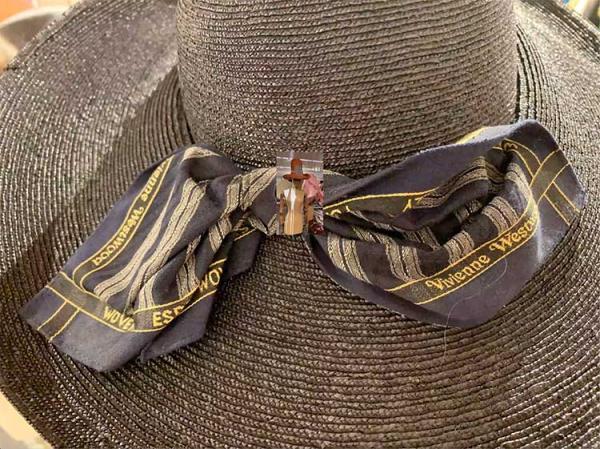 - Click here to watch the video -
Sculture, installazioni di testa: io stessa sono una persona appassionata di cappelli e posso dire che non averli potuti provare è stato molto difficile; ma sono ormai pezzi iconici che hanno influenzato la moda negli anni. Vedrai una piccola, ma molto interessante selezione del patrimonio di Vivienne Westwood.
Alexandra Mas 
To see more of the artist inspirations and voyages follow her
on instagram @alexandramas_artist