The House Jean Paul Gaultier sta aprendo un nuovo capitolo della sua storia.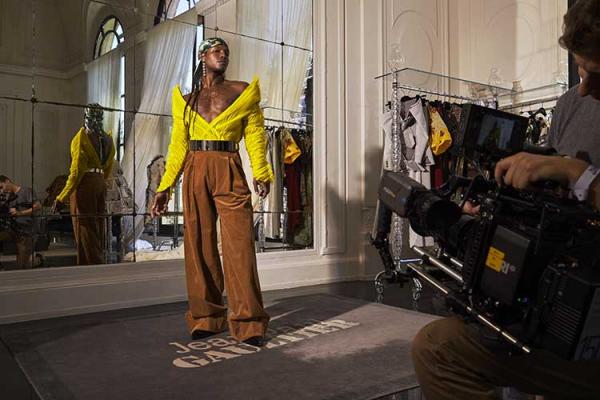 Jean Paul Paula 
Dopo l'ultimo spettacolo di Haute Couture di M. Gaultier lo scorso gennaio, la maison ha annunciato che ogni stagione un nuovo designer sarà invitato a interpretare i codici della casa di moda.
Crystallmess
Il primo a farlo sarà Chitose Abe, fondatrice e designer di SACAI. Ma con tutto quello che è successo negli ultimi mesi, la maison ha deciso di rimandare questo spettacolo Couture a gennaio 2021.
Clemence Botino 
Quando il mondo sembra chiudersi su se stesso, Jean Paul Gaultier coglie l'occasione della settimana della moda per aprire le sue porte e condividere con tutti i retroscena della Haute Couture House. Un meraviglioso viaggio nella preparazione di questo "No Show", guidato da amici di vecchia data e da una nuova generazione di muse di Gaultier che indossano le migliori collezioni d'archivio JPG Haute Couture.
Luna Harst 
Incontra le muse di Jean Paul Gaultier, persone che portano in sé i valori JPG.
Raya Martigny & Sokhna Toka Cisse
Clémence Botino, Miss France, Sokhna "Toka" Cissé, modella, Taqwa, Creativa e fondatrice delle Gallerie Zarafet, Tanel Bedrossiantz, musa iconica della House, Luna Harst, fotografa e modella, Jean Paul Paula, artista, Crystallmess, DJ / Producer / Visual Artist e Raya Martigny, modella.
Raya Martigny
È anche l'occasione per incontrare il personale team di JPG che ha contribuito a costruire questo Parlamento nel corso degli anni. Piccole reti e artigiani che rendono la Maison Gaultier un luogo spettacolare e unico.
Sokhna Toka Cisse
Un incrocio tra il mondo dell'alta moda e le sfaccettate bellezze francesi, tra i vecchi e nuovi amici della casa ... una visione libera e contemporanea dello spirito di L'Enfant terribile de la mode.
Taqwa Bint Ali
Ascoltare, osservare e apprendere: ecco il motto di House of Gaultier per continuare a proteggere il suo patrimonio e i suoi valori mentre è prossimo a scrivere una nuova pagina della sua storia.
Tanel 

Bedrossiantz