Nella collezione Primavera-Estate 2021 Judy Zhang continua l'antico racconto popolare cinese "Legend of the White Snake". Una trilogia che si sviluppa su tre collezioni diverse. La prima è raccontata con la SS20 e si focalizza sul così detto "Duan Qiao Xiang Yu", ossia l'incontro fatidico sul ponte tra il serpente bianco e il suo amante Xu Xian.  La seconda prende vita con la FW20_21 con la scena più iconica della leggenda, Shuî Màn Jīn Shān (il diluvio del tempio di Jinshan) dove il serpente bianco combatte per proteggere il suo amore, con l'aiuto della sorella Green Snake (Qing She). La terza e ultima opera è svelata nella collezione SS21 con una nota malinconica seppur brillante, dove viene raccontato il coraggio che ha avuto il serpente bianco nel combattere per il suo amore, l'indipendenza e l'autonomia nell'agire in ciò in cui crede e infine nella forza dell'amore.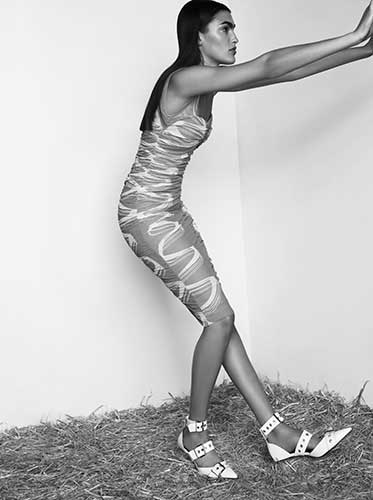 L'illustrazione scelta per questa collezione è il serpente bianco in forma umana con addosso un abito della collezione di Judy Zhang. In una mano porta un ombrello per proteggere il suo amante dalla pioggia e dalla tempesta. Il suo innamorato, Xuxian, ha in mano una scopa, per ripulire tutto ciò che non è necessario nella torre e per proteggere, a sua volta, il serpente Bianco. Grazie al loro forte e reciproco amore, l'arcobaleno colpisce il cielo e alla memoria collettiva emerge la loro casa vicino ad un incantevole e romantico laghetto pieno di fiori di loto. Piangono lacrime di gioia mentre cadono dal cielo fiori a forma di cuore e si dicono "Ti amo". La sorella, Green Snake, usa l'iMac per documentare la loro storia d'amore per i posteri e la intitola "Leggenda del serpente bianco".  I due protagonisti hanno combattuto per il loro amore e in esso hanno trovato la libertà. Questa è la donna ideale di Judy, che combatte per ciò in cui crede e ama.
Nella collezione SS21, l'arcobaleno della scena ispirazionale tinge la tavolozza dei colori  con toni di giallo, verde, blu, rosa, giallo, bianco e infine il nero scintillante, grazie a ricami di strass e paillettes ton sur tone. L'argento è riservato ai ricami del serpente e ai tessiti lucenti che ricordano la sua pelle.
I tessuti lussuosi, arricchiti con attenti dettagli sartoriali, caratterizzano la selettiva scelta della designer che propone capi in seta, pizzo francese e tessuto giapponese speciale. Il serpente continua ad essere il personaggio principale e indiscusso, attraverso il famoso ricamo di Suzhou.
I tessuti che ricordano la pelle del serpente caratterizzano gli inconfondibili suit "patched worked" nei toni del verde acqua brillante.
L'importante struttura delle spalle delle giacche e delle camicie sono realizzate con una particolare tecnica e rievocano la forma del serpente in movimento, così come i vestiti impreziositi da maxi rouche laterali e sul décolleté. Infine, le stampe dei fiori di loto colorano gli inconfondibili look della collezione nelle esclusive e ricercate silhouette.
I completi attillati, gli abiti body drappeggiati per enfatizzare e abbracciare le forme del corpo, i colorati suit in seta e i pijama suit raccontano il carattere della donna di Judy Zhang che si contraddistingue per il coraggio, l'indipendenza e la ricercata sensualità, sempre pronta a lottare per l'amore in cui crede anche contro ogni convenzione.
© Judy Zhang
Press Office: Teresa La Fosca