During the Canes film festival I was surprised by a red carpet apparition. Gorgeous Leomie Anderson walked with a Gaudi like sculpture dress adorned with Bulgari fine jewelry. I knew it was Rami Kadi's signature. Extravagant and very contemporaneous his couture grasped my eye with the cultural underlines it shoes.
His unaffected elegance, and most of all, his interesting comments open a door into a complex universe. Passionate by hand made materials he is experimenting just like a conceptual artist would do. Bright and shiny fabrics, embroidered and hand painted, laser-cut elements, 3D knitted iridescent sequins, feathers, hand shaped metal pieces and superpositions, they become sculptural material devoted to the feminine shape.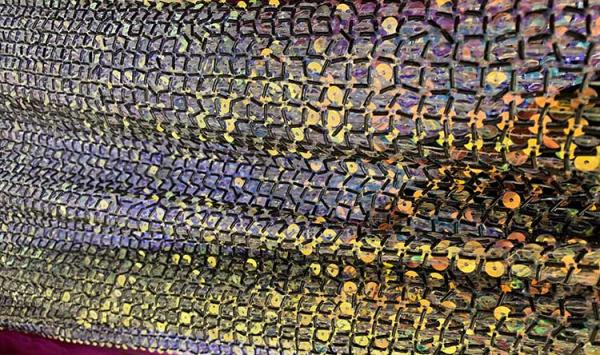 Photos Mas Tassini Studio
The Temple of Flora, inspired by a 18th century print portfolio, is a journey in all flower incarnations he could imagine. His view has nothing to do with what might come to you as obvious. Flowers are not pretty neither delicate in his couture.
Sonorous textures, defined shapes or ethereal waves, his flower prints are poetry, eternal vanity symbolism, allowing audacity and pure extravaganza to get underneath and bloom differently on the body.
"We are in the era of nouvelle couture, I like to mix colours that usually won't mach together, and this is a challenge for me, even for embroidery. I take old techniques and render them modern. This time I worked with hand painted porcelain. In couture you have the freedom to do whatever you want, there are no restrictions."
Photos Mas Tassini Studio
This young designer strikes with his humble attitude, that type of airy soul only talented people bear. His inspiration runs deep in his multicultural heritage and this brings the world to his feet.
"Having a big star wearing your piece, when you really wanted to dress her and you see her on the red carpet, it has a special feeling, it gives you goos-bumps."
Lebanese-American, Rami Kadi, opened his first showroom in 2011 at only 25 years old. Since 2014 he is presenting his collections in Paris, the city that saw him grow up. The 2019-2020 autumn winter collection ends with his beautiful muse, Leomie Anderson, wearing a dramatic volumetric dress; a flower in itself. We can say with no doubt the Lebanese succession is assured with excellence in craftsmanship and glamour.
 Patrick Sawaya Photography
By Alexandra Mas
To find out more about the artist and her inspirations follow her @alexandramas_artist