Iris van Herpen ha presentato la sua ultima collezione "Roots of Rebirth" durante la Parigi Haute Couture Week il 25 Gennaio 2021.
La designer esplora una simbiosi tra l'alta tecnologia e l'artigianato della couture, attraverso una collezione che fa riferimento alla complessità dei funghi e il loro meraviglioso intreccio della vita che esiste nella terra.
"Ghost Mantis" Ph: Gio Staiano
Attraverso "Roots of Rebirth", Iris Van Herpen traduce la miracolosa interconnessione naturale della tessitura della "fitta rete di legno", tessendo un dialogo tra il terrestre e il mondo sotterraneo.
Il lavoro di Iris van Herpen è spesso descritto come etereo e trascendentale; un'esposizione chimerica, che irradia forme che fanno riferimento alla relazione tra il corpo umano e il mondo naturale.
"Entangled Life" Ph: Gio Staiano
In questa stagione, la stilista olandese esplora i ricchi, ma profondamente fragili mutamenti dell'interconnessione di un mondo sconosciuto, l'enigmatico impero dei funghi e i fili sottili di micelio che donano la vita.
La collezione descrive in dettaglio l'esistenza straordinaria di questo tortuoso "tessuto della vita", il meraviglioso mondo degli arazzi di sottobosco.
"Fibonacci" Ph: Gio Staiano
In riferimento al libro scritto dallo scienziato Merlin Sheldrake, "Entangled Life", egli osserva che "i funghi sono il tessuto connettivo ecologico, il giunto vivente attraverso il quale gran parte del mondo è in relazione tra loro grazie alla vita di queste meravigliose creature.
"Ekstasis" Ph: Gio Staiano
"Pensare ai funghi fa sembrare il mondo diverso. Questi organismi sorprendenti sfidano la nostra immaginazione animale e pongono domande su molti dei nostri concetti ormai usurati, dall'individualità all'intelligenza. " - Merlin Sheldrake -
"Entangled Life" Ph: Gio Staiano
L'organismo intrecciato ha davvero plasmato ciò che ci circonda, nonostante i suoi sforzi spesso invisibili sotterranei, è alla base degli ecosistemi della Terra.
Attraverso le interazioni infinite, al di là della nostra comprensione quotidiana, queste reti incarnano una crescita ed un'intelligenza sconosciute. È questo "Tessuto connettivo ecologico" che migliora il cerchio della vita e il suo costante scambio di informazioni mostrando molti paralleli con l'ambiente urbano.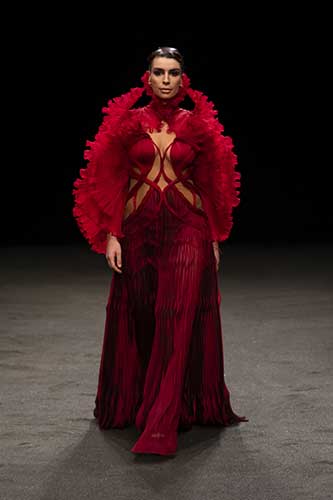 "Apotheosis" Ph: Gio Staiano
L'aspetto primordiale dei fili di micelio, in costante comunicazione tra loro, sono microcosmici della nostra società, come il sistema circolatorio dentro di noi, rami degli alberi, i fiumi che attraversano i paesaggi, la moderna ingegnosità dei trasporti o del web digitale di Internet.
"Roots of Rebirth" estende il proprio ramo, un invito ad una ciclicità di 21 look ispirati a radici e spore. Durante lo spettacolo, le modelle sembrano magnetizzare un laccio vivente di spore a ogni passo, l'intreccio di ogni capo ricorda le radici della rigenerazione.
Due sguardi incarnano la tecnica "henosis", in cui più strati traslucidi di tessuto duchessa sono stati tinti in tonalità pastello, formando un motivo "mantodea".
"Luminous Lichen" Ph:Molly SJ Lowe
Una venatura bianca tagliata al laser formata da una miriade di alette sospese spunta verso l'esterno, irradiando ogni movimento in una delicata serie di interconnessioni invisibili.
In altre creazioni, radici ricamate a mano sorgono e si intrecciano simmetricamente al corpo in toni sfumati, dal rame liquido al profondo colore dell'ombra bruciata. La seta di mogano pieghettata a mano è stata drappeggiata a ventaglio in fiori emisferici.
"Scarab" Ph: Gio Staiano
Iris van Herpen amplifica il suo ethos cinetico, citando il costante stato di metamorfosi nella regina dei funghi.
"Minds in Motion" Ph: Molly SJ Lowe
Due corone cinetiche sono state create in collaborazione con l'artista Casey Curran, ciascuno modificando delicatamente la propria silhouette, incorniciando continuamente il volto.
Diciotto fili di monofilamento trasparenti serpeggiano attraverso una serie di 18 bobine di ottone, disposte in modo da creare un movimento a serpentina, dal sollevamento alla caduta di ogni estremità, simbolo del moto turbolento della nostra mente, attraverso il quale rettifichiamo la nostra realtà.
"Idolomantis" Ph: Gio Staiano
Lo splendore invisibile di ogni indumento riecheggia l'attività dei funghi, in cui l'organza di vetro è pieghettata in modo complesso in un ombré dal bianco al vivido ambra, che si dirama da un corpetto ricamato a mano per formare delicate reti.
Un mosaico di lamelle liquide a bordi sottili realizzate in 3D e ricamato su pizzo espandibile, tagliato al laser per rivelare i fini dettagli parametrici della pelle tra le fibre color ametista. Come i funghi mappano la pelle della terra, tale è anche la composizione dell'Haute Couture di Van Herpen.
Un altro aspetto interessante è il tessuto riciclato realizzato con detriti marini di Parley for the Oceans che è stato stampato e inciso in migliaia di sottili tasselli trilaterali, componendo una fragile simbiosi con la pelle attraverso i loro gradienti, senza soluzione di continuità nella loro traslucenza.
"Fibonacci" Ph: Myrthe Giesbers
I misteri del sottobosco influenzano la composizione del nostro pianeta sacro in modo così disinteressato attraverso sagome mutevoli che portano la promessa di una rinascita e rigenerazione.
La collezione è una performance dedicata all'importanza del nostro essere e all'importante valore della natura.
"Entangled Life" Ph:Myrthe Giesbers 
Con la persistenza del tempo, l'evoluzione prevale e, sebbene questi esseri non siano mai veramente fissi, esistono semplicemente in uno stato di flusso, un tessuto increspato della vita stessa, danzante al ritmo benevolo della rinascita.
Testo scritto da Scarlett Baker