Safaa (nome arabo) si traduce in purezza, chiarezza, serenità ed equità - ed è il nome dato alla nuova capsule collection di Kristina Fidelskaya, che verrà lanciata a maggio 2020.
Ispirata alle diverse interpretazioni di Safaa e influenzata dalle festività durante questo periodo dell'anno, la collezione riflette un apprezzamento per la semplicità - rappresentata dalla combinazione di colori neutri del marchio, sagome ben adattate ma modeste e artigianato immacolato.
La capsule collection curata è composta da tre abiti da sera elegantemente drappeggiati in una tavolozza pura di sfumature di bianco, accentuata da moderni ricami in argento. Gli stili e le forme distintivi di ogni pezzo sono progettati con viscosa fluida e organza di seta scolpita, che completa il corpo, esplora il movimento e la modestia, creando una nuova estetica femminile.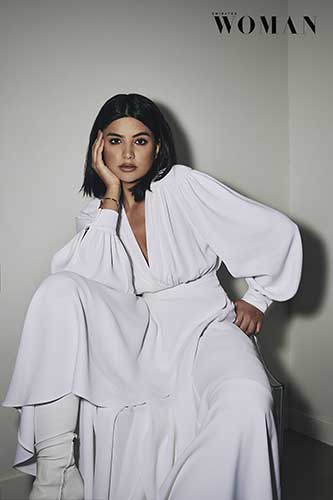 "Dubai è stata la mia casa per molti anni e non vedo l'ora che arrivi il mese sacro del Ramadan, in quanto è un momento davvero unico. Volevo creare pezzi aggraziati che le donne possano incorporare perfettamente nei loro armadi e indossare per varie celebrazioni e occasioni speciali. Lanciare una nuova linea è una sfida, soprattutto in questi tempi, e per questo motivo ho scelto di creare una collezione limitata, che mostri una visione audace, con una forte enfasi sulla virtù contemporanea ". - Kristina Fidelskaya
La capsule collection Safaa sarà disponibile in tutte le boutique Kristina Fidelskaya, nonché online su www.kristinafidelskaya.com - e sarà inclusa nel servizio su misura del brand, affinché i clienti possano prendere le loro misure ed essere realizzate individualmente, insieme a quelle disponibili con la possibilità di personalizzare i loro abiti sartoriali.
Fondata a Dubai nel 2014, il brand è stato presentata durante la settimana della moda di Parigi dal 2017 e da allora è stata riconosciuta dalla Federazione dell'Haute Couture e della Moda. Kristina Fidelskaya è disponibile in una selezione di grandi magazzini e rivenditori in tutto il mondo e ha i suoi negozi monomarca a Dubai, presso The Dubai Mall e Mall of the Emirates.
Press Office: CAROLINE CHARLES COMMUNICATION